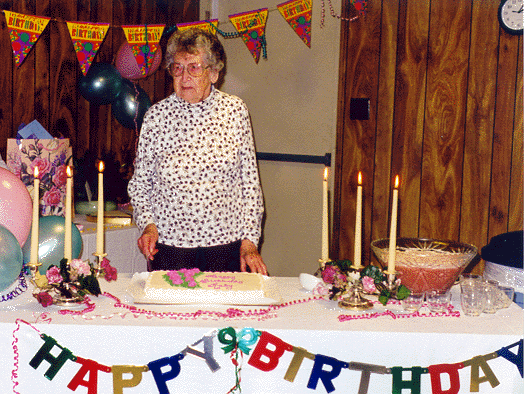 THE "HONOREE"
Ruby Dickson Dedmon, at 86 yrs. young and still going strong. Some of us kids were talking about her ability to remember so much about the family, etc. One of them said, "I sure hope our mind is as good as hers when we get that age"... to which I replied, "Well we sure have to get better in a hurry, if it is"....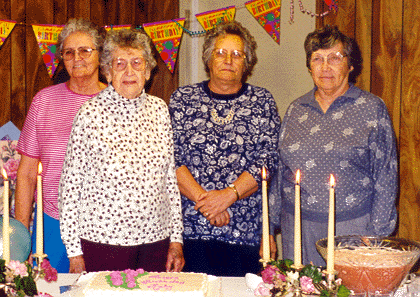 THE SISTERS FOUR
Ruby and her sisters(l-r) Peggy Vess Lunsford, Ruby Dedmon, Dorothy Vess Petty, Mary Ruth Vess Lunsford.. Ruby had two other sisters, Edna Dickson Gilbert Murry (deceased) and Ola Lee Vess Bates who was unable to attend the party.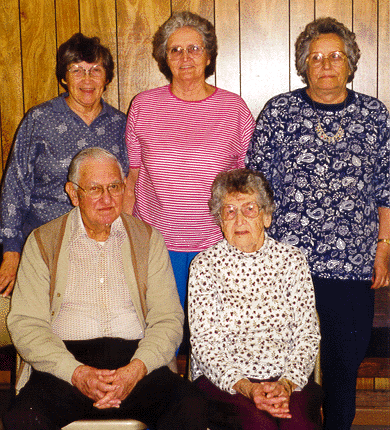 SISTER-IN LAW
Ruby and her sisters with Gordon Lee Dedmon (my father and Ruby's husband of 60 years) (l-r)Front Row: Gordon and Ruby. Back Row: Mary Ruth Vess Lunsford, Peggy Vess Lunsford, and Dorothy Vess Petty.
HAPPY BIRTHDAY
January 1998
Ruby Dickson Dedmon (my mother) just celebrated her 86th birthday on January 8. We managed to pull off a small surprise party for her. We gathered at the Hickory Grove Baptist Church Fellowship Hall and waited for her sisters, Dorothy, Peggy and Mary to get her to the building without suspecting anything. We figured that to be "Mission Impossible"... We still don't know how they did it , but THEY DID!!!!!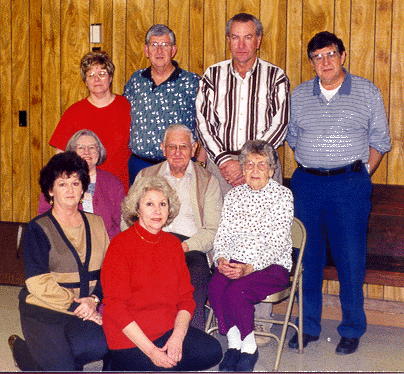 A "RUGGED BUNCH"
Ruby and Gordon with some of their children.Front row: (l-: Alma Ruth Dedmon Hamby Smith, Alice Carolyn Dedmon Price. Second row: Berla Jane Glasscock Dedmon (Leroy's wife) Gordon and Ruby. Third row: Constance Darlene Buff Dedmon (Bill's wife) Joseph William (Bill) Dedmon, Donald Ray Smith (Ruth's Husband) and George Leroy Dedmon. Not present: Thomas Gordon Dedmon and his wife Diane Sparkman Dedmon and Claud Price (Carolyn's husband)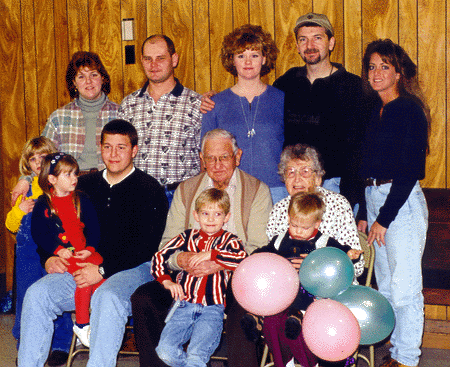 GRANDCHILDREN
Some of the Grandchildren and great grandchildren are pictured here with Gordon and Ruby. (l-r) Front Row: Amanda Cochran, Seth Smith, Justin Smith. Second Row: Jessica Cochran, Craig Dedmon, Gordon, Ruby, Back Row: Kim Dedmon Cocharan, Donnie Cochran, Tonya Smith, Steve Smith and Amy Smith Sadler. Ruby and Gordon have 13 grand children and 7 great-grandchildren.